Expert Emergency Locksmith Unlocking File Cabinet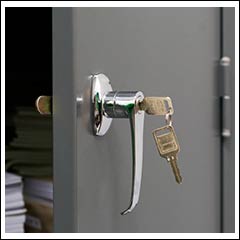 Every office has one asset that despite seeming trivial is in fact, the most crucial of all. Your employees, hardware/software, equipment, and other infrastructure are vital, but so are your file cabinets. How? These entities are what protect sensitive files, reports, data and everything else that matters to you. As such, when you find that you're shut out of your file cabinet due to a broken lock or a missing key, you'll find that it hampers your everyday activities. Without access to critical paperwork, it can cripple normal operations. During such times, give Expert Emergency Locksmith a call. To us, unlocking file cabinets comes easy and we can instantly help you regain access without inflicting any damage on the lock, or the cabinet or its contents.
Our unlocking service:
No matter what type of file cabinet lock you've got installed, we can help you get through it. Typically, our unlocking file cabinet service extends to two kinds of locks:
a) Key-based locks:
These include cam locks, sliding teeth locks, lock-bars, tubular cylinder locks, among others. Be it any variant, or any type, our unlocking file cabinet service will be able to open them up, repair, rekey or replace them as needed.
b) Keyless locks:
Keyless locks are usually the digital variants, where physical keys aren't used, but rather a number-based combination, a passcode or a fingerprint scanner is used to open the lock. We can work them too!
How does our service operate?
You don't have to find yourself scrambling for help at the last moment or travel places to find an expert skilled at unlocking file cabinets. All you need to do is give us a call on 888-805-7044 and we'll dispatch a technician to your place right away. You don't have to give us any details about the type of cabinet or the lock, because our technicians will visit the site and validate the same. Whether you have a keyless variant or a classic key-based lock, our locksmiths will be able to open it up in no time without damaging your assets. Unlike others, we neither drill the locks nor saw through your cabinet, but strategically determine the best means to regain access with little to no damage.
We're available 24/7
Have a meeting in another hour and you need access to important files that are now locked in the file cabinet? Don't worry, our unlocking file cabinet service is available 24/7 and we'll get to you in less than 15-20 minutes to resolve the issue.
Need our help? Give us a call now!