Expert Emergency Locksmith Unlock Car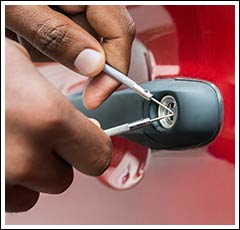 Facing a car lockout can be one of the most daunting and traumatizing situation you can ever encounter. If you face the same in your garage, the magnitude of the situation might not weigh down on you. However, if the same happens in a remote location, far away from home or in the middle of a highway, that's when it spells doom. Add to that, if you find yourself locked out during an odd hour maybe in the middle of the night or stuck in bad weather, it will only make the situation go from bad to worse. With inadequate help available, you might be forced to make rash decisions such as smashing the windows or breaking the locks to gain access. But here's a piece of advice: Don't! Call Expert Emergency Locksmith instead to unlock the car.
What are my other options?
In such circumstances, you can try to call a towing service to take your vehicle to the nearest mechanic shed. Alternatively, you can call up the local dealership in your local area. Both these options to unlock car may be time-consuming and will not go easy on your pockets. In some cases, they might not even be feasible. You can hardly expect your car dealer to answer your call at 1:00 am nor can you expect a towing truck to reach you if you're locked out in a remote, inaccessible and unfamiliar locality.
What's my best option? Opt for Expert Emergency Locksmith
During such times, hiring a locksmith is your best bet. Reach out to Expert Emergency Locksmith, an established locksmith service agency. Here's why we're the best choice when it comes to providing unlock car solutions.
Experience:
In over a decade of service, we've dealt with countless cases similar to yours. This experience has armed us with the skill and the expertise needed to provide a swift resolution to car lockouts. No matter what make or model your vehicle is, we can unlock its lock.
Reliability:
Your pet could be locked in the vehicle. You have your hopes pinned on someone to rescue you. If they don't turn up, the results could be disastrous. That's why you need to trust a company with a proven track record. Trust our unlock car service to always reach you on time.
Cost-effective:
Call us past midnight or midday, you'll find that our prices don't fluctuate and remain the same. We provide a flat, upfront, and fixed pricing and don't add any unpleasant surprise charges.
If you want reliable and affordable unlock car solutions, then look no further! Call us now on 888-805-7044!