Expert Emergency Locksmith Re Key Locks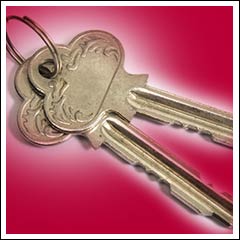 Do you have any idea as to how many keys you have in circulation? Often, you might lose track of who you hand out a spare to or you might inadvertently drop your keys somewhere, which could have been picked up by someone with malicious intent. Lock rekeying is a proven technique to regain key control and enhance the security of your property. As opposed to replacing the locking systems, a re-key locks procedure won't cost you as much, can be done in minimal time and guarantees the same level of security a new lock provides. Trust Expert Emergency Locksmith – the rekeying experts! Over a decade since we commenced operations, we've undertaken projects of varying scales; right from rekeying front door locks on residential properties to undertaking full building rekeying for office spaces.
What is it?
During a re-key locks procedure, a locksmith will alter the internal mechanism of the lock, i.e. the existing configuration of pins and cylinders is removed and is replaced with a new one, thus incapacitating the old keys and requiring a new set of keys to be made for operation.
When should you rekey?
You might need to call our re-key locks service in the local area in the following situations:
Moving to a new property: If you're moving into a new place, the previous owners, contractors, or tenants might still have the keys. Rekeying will eliminate access to your property.

Fall out: A fall out with your neighbor or a friend who has access to your keys, demands a re-key locksprocedure. You might never know if they choose to use the key to gain entry.

Firing an employee: If you've fired an employee recently, it's vital to revoke access to every entity the employee had access to including door locks, file cabinet locking systems and more

Setting up a master key system: If key management is becoming an everyday mess, then you can rekey locks so that they answer to a single master key in addition to their unique change keys.

Lost/stolen keys: Lost your keys or suspect them to be stolen? Don't let a missing key ruin your peace of mind. Rekey locks for better security and key control.
When does a re-key locks procedure not prove effective?
The life expectancy of the lock is poor
Rusted or deteriorated lock condition
The lock has undergone severe physical damage
Outdated lock types or aged locks
The internal components are rusted or dilapidated
Want to get your locks rekeyed and regain control of your keys? Then call us now on 888-805-7044