Expert Emergency Locksmith Push Bars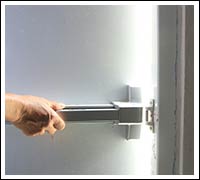 Turn the pages of history and you'll find it splattered with illustrations of devastating losses that happened all because there was a lack of proper exit system in public spaces. An earthquake or a fire breakout may induce panic that can lead to casualties if there are no proper means of exiting the property quickly. The hundreds of grim tragedies of the past prompted governments to make installations of emergency exit systems compulsory for large buildings, office spaces and other areas, the violation of which can invite hefty penalties from the authorities. Of all the different types of exit systems prevalent today, push bars are used by a majority.
Why push bars?
No other locking system provides as easy an operation as push bars. They come equipped with a spring-loaded lever, which when pushed instantly opens the door to let people exit quickly during a crisis. Since during such times, one can hardly expect people to fumble with keys and complicated locking mechanisms, the push bar's simplicity is what makes it a standard for use in emergency exits.
Ask Expert Emergency Locksmith
No one understands the local regulations in the locality better than we do. We make sure your property complies with the requirements and has proper emergency exits to mitigate the losses during an unexpected contingency. When you call us in, our experts will analyze your property, locate where the exit doors need to be placed, and install high-quality push bars to ensure seamless operations for a long time. We even provide consultation during the pre-construction phase and assist in the proper design of an efficient exit system.
Wide range of options
If its push bars you need, then Expert Emergency Locksmith has got a wide collection to meet your needs. Depending on the type of your property, its scale and budget, we recommend solutions tailored to your needs. Small businesses might not require anything complex, whereas large premises might demand push bars and exit systems fitted in with alarm systems. Be it any requirement; find a solution by calling us. We'll fit you with the best quality panic bars to make sure your property stays in line with the regulations and safety standards.
Get panic bars installed 24/7
Malfunctioning panic bars? Need immediate repairs? We understand the criticality of such issues and render our services round-the-clock. We also work during odd hours upon request as most commercial property owners don't prefer interruption in their business activities with ongoing installation work. Anytime you need our services, all you need to do is call.
Need new push bars installed at your property? Hire the experts by calling 888-805-7044!