Expert Emergency Locksmith Lock Changing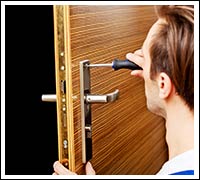 When was the last time you upgraded your locks? Perhaps 5 years ago, or maybe never? Lock changing can be a wise investment – an investment that most residents and business owners fail to set aside. No one willingly jeopardizes one's security, but do so inadvertently. From not upgrading your locks to not fixing any problematic issues, you might be an unknowing participant in a larger crime that may sooner or later hit your property. Removing old locks and replacing them with newer, more robust and stronger locking systems can instantly amplify the security level on your property.
However, one common mistake that people make when changing locks is availing the services of inexperienced locksmiths who might exploit you or upsell products you don't need. That's why, while it's necessary to get the right lock installed, it's equally necessary to hire the right person to get the job done. Choose Expert Emergency Locksmith – a leading name for lock changing services, key duplication, security advice and lots more. For more than a decade, our outstanding locksmith solutions have been securing both residential and commercial properties in your local area and have received widespread acclaim from all corners.
Why upgrade to high-security locks?
Every property holds a ton of valuable assets. This can range from expensive furniture, jewelry, electronic systems and money in homes, to sensitive data, confidential information, IT infrastructure and more in a business establishment. Securing these elements by locks changing on time and replacing old locks with high-security variants that are designed to thwart criminal attempts at intrusion can avert a major loss in the near future.
When do I need it?
There's no expiry date on locks that warrant a replacement after a fixed period, rather lock changing is purely subjective. You might have changed your locks only a year back, yet it might demand a replacement today. Sometimes, your locks get damaged or you might have started off with a poor quality locking system in the first place. Sometimes, you might need to change your locks after you've evicted tenants on bad terms or have fired an employee. If you're unsure about whether or not you need a replacement, you can always consult the experts at Expert Emergency Locksmith to gather more insight.
Why insist on sticking with the conventional when you can enhance the security of your property through our lock changing service? Get rid of your inefficient locking systems today! Give us a call on 888-805-7044 and let the experts work their magic!