Expert Emergency Locksmith Garage Door Locks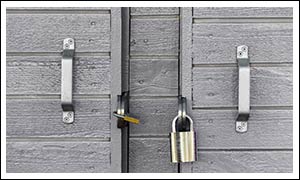 A garage serves multiple functions; while it provides a parking space for your car, it can also double as a mini gym or workshop and in case of commercial establishments that rely on transportation; it forms the lifeline of business operations. With garage spaces playing such critical roles, it's vital to keep them protected by getting sturdy garage door locks installed. Trust Expert Emergency Locksmith, a renowned locksmith service company in the local area, for all your locking needs!
We provide expert guidance
A robust lock setup can deter criminals from exploiting your property and will facilitate easy movement of vehicles, in and out of the garage space. We know that not every garage is the same, and thus, we go out of our way to analyze the property first and provide garage door locks that are tailor-made as per specific needs. That's what sets us apart from your average locksmith, making us a viable choice for security solutions amidst both residential and commercial property owners.
We are never out of reach
Consider the possibility of being locked out of your garage and losing access to your vehicle. The magnitude of such a situation is amplified in a commercial property, where a failure to access the garage can lead to disastrous ramifications. Thankfully, Expert Emergency Locksmith is at your service 24/7 and can fix or install door locks anytime you need it!
Security improvement is a two-step process:
a) Lock upgrades
The older your locks, the laxer your security gets. Even if you do own a modern lock, if the technology behind it goes obsolete, they no longer fulfill their purpose. Even garage door locks that use fixed codes can be easily cracked by modern-day criminals. That's why you need us! We stay updated with the trends in the industry and know exactly what your garage needs for maximum level of security.
b) Doors
Even the best, most impenetrable locking systems cannot protect you if your door in itself is lacking. Weak, damaged or bent doors may easily give in to physical impact, nullifying the security imparted by your locks. For this reason, it's vital to install a sturdy door, preferably made of steel or wood to thwart intrusion attempts.
A wide range of lock types:
Need something traditional? We've got conventional mechanical locks for your needs. For the more tech-savvy residents, we have a wide collection of remote-operated garage door locks and advanced locks with biometric verification and more.
If you want to upgrade the security of your garage, start with your locks. Reach out to us today!