Expert Emergency Locksmith Eviction Locksmith Service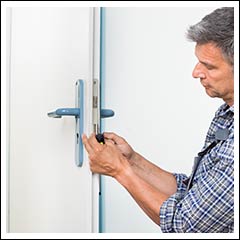 Evictions are rarely amicable and are a hassle for both the parties; the one being evicted and the one overseeing the eviction. Often, landlords and building managers are left no choice but to enforce an eviction, after rational conversation fails and an apt recourse isn't identified. We understand how stressful such procedures can be, and that's why you need to partner with us for eviction locksmith services. Expert Emergency Locksmith can ease up the process and make evictions smooth, quick and hassle-free. Till date, we've assisted scores of property owners in your local area, from both the commercial and residential sector, helping them regain full control of the property.
What leads to the decision?
When all else fails, eviction remains the only answer. Some of the reasons include:
Delayed/Non-payment of rent: A refusal to pay rents or late payments is unacceptable by many. Most people who opt for evictions cite this as their number one reason.

Non-adherence to rules: Every property owner lays down a set of rules that the tenant agrees to by signing the deed before moving in. A violation of the same such as keeping pets when it's not allowed or engaging in illegal activities lays a strong argument for eviction.

Damage to the property: When a property owner hands the keys to a tenant, it is expected of them to preserve the property. Any destructive actions such as tearing down the walls, wrecking doors, windows etc, may demand immediate eviction locksmith service.
Expert Emergency Locksmith makes it easy
Think evictions are stressful and intimidating? Leave it to us and we'll handle the rest. Once you've got the legalities sorted out and have the order of eviction at hand, ring us up and we'll immediately dispatch a locksmith team to your place to provide eviction locksmith service. We'll start by analyzing your property, identify the areas the evicted tenant had access to and rekey the locks. In case the locks are damaged or unsuitable for a rekeying procedure, we can replace the locks instead.
Often, regaining key control is not the only thing that's required. Tenants might be aware of security loopholes in the property and exploit them to regain entry. Ask our security experts for a consultation. They'll review the setup and come up with strategic solutions that will impart 360-degree protection to your property.
Want to make the eviction process less cumbersome? Then hire our eviction locksmith service. We're available 24/7 and are just a call away! Dial 888-805-7044