Expert Emergency Locksmith Change Locks Service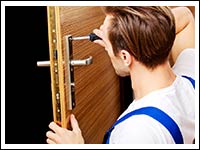 Criminals these days are getting smarter, and harder to outwit. Every day, stories of theft and burglaries make it to the headlines. Almost always, the cause behind these crimes is blamed on lax security. Security starts with your locks. So, if you're expecting a 5-year old lock to do the job of protecting your premises, then you need to snap out of the delusion right now! The world is evolving and so is the locksmithing industry. If you want to stay protected, then it's time you availed change locks service and revamped your security level.
Expert Emergency Locksmith is a renowned name in the locksmithing industry and has been dedicatedly serving the region with outstanding lock and key services for over a decade. Whether you need security advice or lock repairs, we can assist you in the right manner. So, rely on us for locks changeservice; we won't let you down!
When do you need it?
You might be wondering when the right time to change your locks is. Truth is there's no fixed period or a timeline after which a change is mandated. You can buy a cheap new lock only to replace it a week later or install a sturdy one that lasts for years.
If you need help in making a decision, here are a few scenarios that might warrant the need for a change locks service:
Your lock is outdated: If your locks are too old, your property easily becomes a target for criminals. Change it to stay safe!

You've just moved:Have you just moved into a new place? If the property has changed hands multiple times, changing locks will secure it against ex-tenants who might try to gain access.

You lost your keys: If you've lost your keys or suspect them to be stolen, you can always get the locks rekeyed. Changing locks, however, provides greater security.

Fall out/employee change:If you fallout with someone who had access to your place, perhaps a neighbor or an employee who's been fired, get the locks changed.
A variety of options at affordable prices
Our inventory is stocked with high-end locks from reputed brands including Schlage, Kwikset and Mul-T-lock. From high-security options to simple mechanical locks, we've got the entire range with us. If you're looking for an upgrade into something more aligned with today's digital age, then we've also got smart locks to serve your needs. Name the lock you need; you'll find it with us!
Want to avail change locks service in your local area? Then call us now on 888-805-7044!